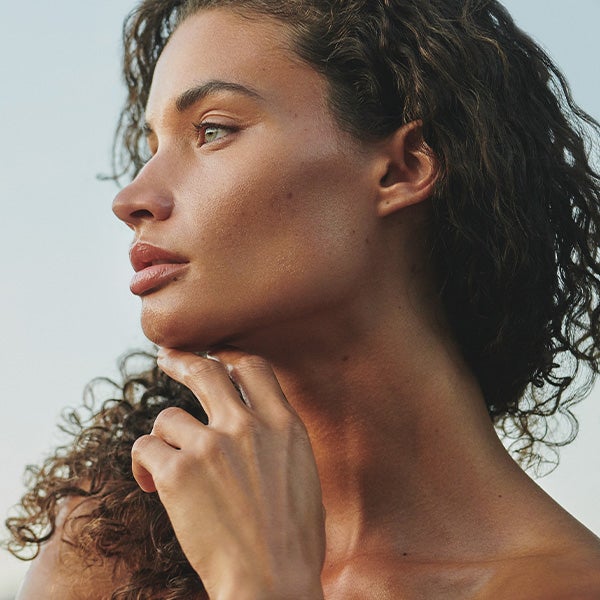 How well do you know your skin?
Answer three questions to discover your personalized skincare routine.
Our Skincare Philosophy
Begin your skincare routine with Symbiome's facial cleansers. The Renewal cleanser is our hybrid gel-to-milk, oil-based daily cleanser that gently removes makeup and impurities as it helps maintain a healthy skin barrier - leaving skin hydrated, soothed, and refreshed. The Reset cleanser is designed to soothe and clear, a powerful yet gentle foaming cleanser is the first step in establishing a balanced and glowing complexion.

Our powerful, anti-aging serum, comprised of 50% Stem Cell Conditioned Media, enhances resilience of skin for a more youthful, radiant glow. Our powerful elixir of regenerative peptides, exosomes and naturally-occurring hyaluronic acid and pro-collagen work together to help maintain healthy collagen and skin elasticity–ultimately promoting a more youthful skin tone and texture, while reducing the appearance of fine lines and wrinkles.

Take extra care of the most delicate skin around your eyes with Symbiome's The Luminary, our ultra-hydrating BioIntact™ eye cream that rejuvenates the orbital area. The Luminary Replenishing Eye Cream delivers nourishing, gentle and non-sensitizing retinoid – as well as fat-soluble vitamins and potent antioxidants – to reveal radiance. Awaken and smooth tired eyes, maintain a youthful, bright-eyed look, combat accelerated signs of aging, and plump and hydrate the under-eye area.

Symbiome's proprietary cold-emulsion process allows us to create supercharged Biointact™ creams with as few as three ingredients, such as The One face cream. This blend delivers a host of nutrients, polysaccharides, fatty acids and enzymes that help maintain a healthy skin barrier, deliver intense moisture and reset the skin's microbiome. By completely eliminating heat, we preserve the potency and rich biological integrity of our natural ingredients and optimize the benefits to the skin.

Our unique, proprietary Postbiomic™ fermented oil blends are packed with antioxidants, essential vitamins, fatty acids and enzymes, including natural pro-retinols and retinoids. They can help support circulation, brighten and rejuvenate skin to feel toned, smooth and soft, and reduce the appearance of fine lines and wrinkles. These oils provide ultra-hydration, as well as help maintain healthy collagen to even out skin tone for a youthful glow. All oils mimic natural sebum, penetrating deeper layers of the skin for long-lasting results.


What would you like to target?
Shop our range based on your most important skin concern.


Our Bestsellers
Your path to skin health starts here with Symbiome. We hold an authoritative understanding about skin's biological functioning and the relationship between skin health and a thriving, diverse skin microbiome. Drawing on a collective 80+ years of experience in microbial science, we are pioneering the charge for microbiome skincare with our collection of Postbiomic™ products to replenish the beneficial metabolites that once kept our skin truly healthy.