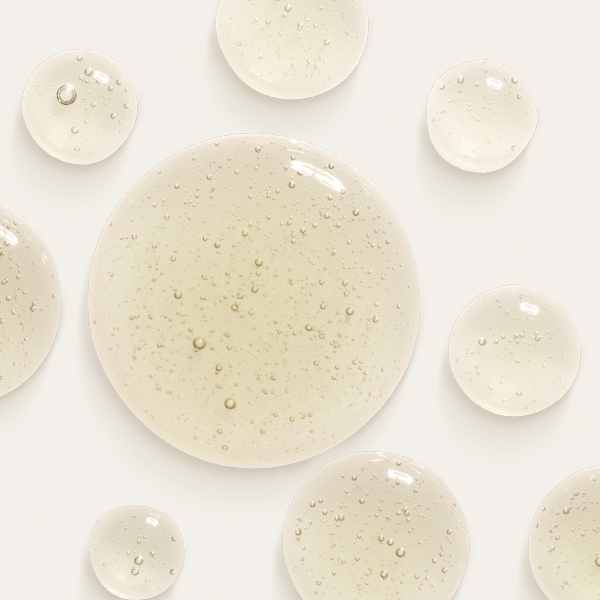 Frequently Asked Questions
Frequently Asked Questions
Our products are easily integrated into an existing regimen. Symbiome helps reduce the total number of synthetic ingredients applied to the skin, thereby reducing chances of irritation or cross-reactivity. To maximize absorption and results, apply your skincare products from thin to thick, or from water-based to oil-based products.
All Symbiome products have zero added fragrance. Our intentional ingredients do have characteristic scent profiles that are of natural origin and design, which we do not alter. These natural fragrances are mild, earthy, and do not linger after application.
Unlike synthetic ingredients which guarantee consistency across batches of product, this is seldom possible with our formulations which use natural ingredients. Plant ferments slightly vary in their composition between batches, and smell and color are the two most frequently distinct features. These characteristics are sensitive to specific climatic conditions in which the plants grow, such as water availability, temperature, and soil composition, which vary between harvests.
At Symbiome we understand that to be truly sustainable, we must consume less. Through a deeper understanding of what our skin has lost, we are able to intentionally base our decisions on science and avoid unnecessary products. Using supercharged ingredients that are rich in vitamins, nutrients and other natural compounds, means that little needs to be added or manufactured in a lab. We source our ingredients from an organic farm that adheres to sustainable farming practices. By using fewer ingredients from fewer sources, we inherently place less pressure on our supply chain processing needs and shipping.

Our goal is to have the smallest carbon footprint possible. We use packaging that is recyclable and made from recycled materials. We are exploring innovative materials that reuse other waste products to create alternative packaging options and are committed to consciously evolving.
It takes time to assimilate to a new product! In the words of our dermatologist: "There's always an adjustment period. It can take up to 4-6 weeks for your skin to rebalance with a new product, based on how your skin was producing sebum before, what the pH of your skin is, & what the microbiome on your skin is doing. After 4 weeks is when you should really be assessing the state of your skin."

When introducing products: Think about cross-reactivity. Be mindful about why you're putting a product on your skin and ask, "What are each of these ingredients actually doing? What is the intended effect? Is it safe, and is it working?" Leverage your own dermatologist to find out what ingredients are safe and functional for products with extensive labels.
Anti-aging compounds — retinol and Stem Cell Conditioned Media — collectively work to help slow the accelerated signs of aging we are subject to while living in an urban environment. Retinoids facilitate healthy collagen and are essential to helping improve the appearance of fine lines. They also aid overall tone, help with skin congestion and skin elasticity for bright and vibrant skin. Stem cell conditioned media —the key active ingredient in The Answer — contains a powerful elixir of regenerative peptides and exosomes to seamlessly promote optimal rejuvenation and supple, smooth skin. Simply apply your Answer serum twice daily (after cleansing), and any prescription retinoid products (as recommended by your dermatologist) in the evening.
Of all the ingredients we use (of which there are only 22 — total!), the only essential oils (EOs) include Alecrim Pimenta and Geranium Leaf Oil. Both are present in The Reset cleanser, while The Answer contains some geranium. We suggest avoiding these two products if you have known sensitivities, or patch testing on the forearm prior to application to face.

Otherwise, the majority of our oils are derived from trees or shrubs (plants, in general) which are fermented and cold pressed. For example, Sanoma oil is a fermented oil derived from a shrub native to the Amazon — it's not an essential oil. There isn't much information about the oil because it hasn't been used in commercial skin care thus far, but it has been used for thousands of years by people native to the region.
The naturally occurring bioemulsifiers in Symbiome's Lactobacillus Ferment (a unique postbiotic produced by a community of Lactobacillus species) allow the aqueous (water-based) and oily ingredients to form a stable creamy emulsion when combined. This blend delivers a host of nutrients, polysaccharides, exosomes, enzymes, and peptides, allowing each cream to be naturally self-stabilizing and self-preserving.
Fermentation is a natural way of unlocking and optimizing the bioavailability of vitamins, essential amino acids, various bioactive peptides, and antioxidants. Not all ferments are the same — the type of microbes and what you feed them determine the ferment's composition. Beneficial bioactives present in our fermented oils are derived collectively from the botanicals (some repackaged into a more bioavailable form and others that remain intact) and those produced by the microbes. When it comes to skin products, fermentation increases the nutrient density of the product, making it more potent.
Fermentation is a natural process by which microbes (bacteria and fungi) break down organic macromolecules into simpler ones. In the environment, this process composts organic matter into accessible nutrients. It is a constant and integral process of nature in cycling the building blocks of life — that we, humans, have learned to adapt and harvest. Think wine, beer, yogurt, kombucha and miso.
In order to sustain the lifespan of the biologically self-preserving ingredients, we suggest keeping products out of extreme heat, direct sunlight or refrigerated environments when storing them. The shelf life for unopened cleansers, creams and serum is 12 months, and 2 years for oils. We recommend using products within 3-6 months after opening.
Symbiome products are made from natural, non-GMO, non-irritating, non-sensitizing, and hypoallergenic ingredients, which have been identified as being safe for use in pregnancy by the USDA Organic, Made Safe and Leaping Bunny. Our own dedicated team of doctors, scientists, and microbiologists are continually engaged in ongoing clinical research to develop and validate our products as safe and effective - to ensure peace of mind for you. If you are pregnant or nursing, we recommend consulting your physician before starting any new products.
With the exception of The Answer serum, all our products are vegan, organic, non-GMO, hypoallergenic, and are soy- and nut-free. We've crafted products with the precise balance of botanically derived ingredients needed to be safe, effective and self-stabilizing.